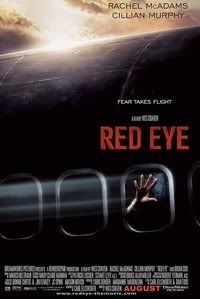 I have a confession to make; the reason...the ultimate reason why I wanted to watch this movie in the first place -- was Cillian Murphy. I know, I know. I am ashamed to admit that I've become one of those fan-girl that obssesively want to see a particular movie 'cause their favorite actor/celeb is in it. Ever since I watched him in Batman Begins and Disco Pigs, a chance to see him in a leading role is one opportunity that I can't missed. Lesson number one; never judge a film by its actor. It's a great lesson, people -- seriously, take my word for it. Never watch a movie because your favorite actor is in it. Always have an open minded with everything and open yourself with new experience. That being said...
The movie is about a woman named Lisa Reisert (Rachel MacAdams) takes a night flight called 'Red-Eye', and she met a charming man named Jackson Rippner (Cillian Murphy). They flirt a bit, and even sits next to each other in the plane. What happens next, the charming man is actually a professional hitman. He drops the nice guy act and reveals he's a cog in an assassination plot to kill top politician. The politician is checking into Lisa's hotel -- she works as the hotel manager -- and he needs Lisa to arrange a hotel room so his collegues can kill the politician. If she refuse, he will kill Lisa's father, played by surprising thin Brian Cox.
Now...the plot seems plausable. It's a claustrophobic atmosphere thriller that should entertaining and exerts a powerful edge-of-seat grip and understanding of suspence mechanics. Apparently it doesn't exactly pull that kind of trick. It's a constructed B movie concepts given even B minus list production values that works like a broken record. The scripts has so many flaws, I don't know where to begin. The movie is suppose to be scary, thrilling, action-filled and all that jazz. It is not. I tell you, people. It's not even scary, and this is coming from a horror hater. All I did was looking at Cillian Murphy and Rachel MacAdams' every so often closed-up, and wondering why they're in this movie. Of course, you already know the plot -- I don't even have to spoil anything, because the movie is so predictable, you already know what's gonna happen. The ending just a plain dud and I only wasted 80 minutes of my life. It was directed by master of horror movie, Wes Craven. But I guess his muse or mojo is having a vacation in this movie, because I was wondering what the hell is this story about? Who wrote this? A fanfiction writer, who maybe have a huge crush with Cillian Murphy so this piece of crap is written? I am not saying this movie is a total loss...I mean...there are some moments...wait, what am I saying? Nope.

This movie is nice, yes. I really like Lisa and Jackson's interaction and chemistry. Solid acting from both actors, and yes, Cillian Murphy is again genuinely creepy. He's evil. He's pretty. He's pretty evil. He's creepily pretty. And Rachel MacAdams is not bad too. Too bad the movie suck. Rachel MacAdams is terrific as a spunky heroine. Brian Cox...well, I guess he needed a job or something, because if you blink - you will missed him. Cillian Murphy is exuding dangerous charisma as the icy cool badass. I actually want to see him kill everybody on the plane, to make this movie more interesting. I just want to say; these talented actors deserve in a good movie, not just some a peanut gallery type of horror slasher film where the guy end up as nutjob and trying to kill the heroine....Oops, did I give you the whole premise? Before you blame me, just watch the movie trailer -- because the whole goddamn trailer is the whole movie. Every...single...frame of it. 80 seconds of trailer time is the whole 80 minutes of film. I cannot believe it. But if you want to watch a brainless movie with lotsa plot hole innit, you have a permission to watch this. Just remember the exit door is located.
Ratings: 5.5/10