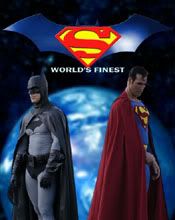 I have the opportunity to watch and review these fan-made movies. These are not Hollywood nor big studio production, but simply movies that are made by fans. The story about Batman, Superman, other superheroes, even Alien and Predator. I gotta tell you, these films are one of the best fan-made movies. The styles of course are not professional, and some of them are only trailers and mini movie, but the whole productions can make the previous Schumacher's Batman movies put into shame. Hollywood should buy these rights and scripts, and make big budget films.
World's Finest is a trailer film, only 4 minutes length, in a low budget production. But the premise of the story is about Superman who is having trouble handling Lex Luthor, the President of USA. Apparently Lex is declaring a war and Superman is trying to stop it. He cannot handle it by himself because of the bureaucracy, so he needs Batman's help. Although they are in the same league, Batman and Superman's personalities clashes. Superman is too nice, while Batman is too rough. Lex Luthor also asking Two-Face's help to get rid off Superman, by shooting him with a Kryptonite. Will Batman help Superman? There are no particular storyline here, only trailer, so we only able to see bits of the "movie". But kudos for making it, 'cause the trailer although seems rough, it really challenges the quality movie making that big budget studios are usually lacking. Superman is a bodybuilder, Lois Lane looks cheesy, and Batman is old. Nevertheless, I really like the effort.

Batman: Dead End is an eight minute mini movie about Batman who are chasing The Joker who broke out from the Arkham Asylum. When he corners The Joker, fighting ensues. But their fight are interrupted by Alien! When Alien fights Batman, Predator suddenly appears and kills Alien. He now challenges Batman to a duel to the death. Again, although it seems impossible because of power and weaponry from Predator, Batman manages to defeat him...until he notices that there are three more Predators and three more Aliens. Batman is now surrounded... When I see this mini movie, I thought whoa! This is great, this is like a geek dream comes true (I'm a geek, so there). I almost had a heart attack when Predator and Alien appeared. I was like, what!? That is so cool! I always pondered who would've won a fight between Predator and Batman? I always like the movie Predator starring Arnold Schwarzenegger and the movie Alien starring Sigourney Weaver. The music, the fast-pace scenes, the costumes, the fights and the actings are actually decent. I especially notice The Joker is played by Andrew Koenig, who fans might remember him from Growing Pains as Boner. He's great as The Joker. Overall, I like this low budget mini movie which is directed by Sandy Collora.
Grayson is a 5 1/2 minutes long trailer about Dick Grayson alias Robin -- Batman's sidekick. The world is in mourn when they found out about Batman's death, and the culprit or the killer that responsible is still at large. Feeling guilty, full of vengeance and still in Batman's shadows, Dick who is already settling in with Barbara Gordon alias Batgirl and their daughter, is training so hard to avenge Bruce Wayne/Batman's death. Unfortunately nobody wants to help him, and everyone especially the retired Commissioner Gordon advise him to let it go. Gotham City is now ruled by the corrupt Chief O'Hara, who seems have a hidden agenda. He make an alliance with Selena Kyle alias Catwoman (played by surprising wrestler valet Kimberly Page). Various criminals like The Joker, The Penguin, The Riddler are running amok -- so Superman, Wonder Woman and Green Lantern are helping Robin. But Robin's brute way is not Superman's way, so he try to stop Robin from killing these criminals. Dick and Barbara's daughter is kidnapped by The Joker, thus making Barbara putting her costume and becomes Batgirl again. There is a possibility that Superman is dead, Robin is becoming ruthless and The Joker is plain creepy. Because this is only a trailer, I can't imagine what the story is suppose to be.
I can say this though; this long trailer is awesome. The actings are superb especially John Fiorella who played Dick Grayson. He is hot. Daaaamn. And he also directed this trailer, so I can safely say that he is also talented. Of course I can't just give lotsa credit, because this is not even a movie -- it's a fan made movie trailer for cryin' out loud. But this is the kind of fresh new concept of a film, which is so exciting and original and not to mention satisfying. They should make a full feature movie based on this.
Ratings:
World's Finest: 6/10
Batman:Dead End: 8/10
Grayson: 7/10