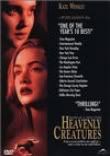 The truth is, the sole reason why I wanted to watch this movie because of the premise of thriller with a splash of fantasy, not to mention directed by the guy who responsible with the Lord of The Rings trilogy. Nothing could go wrong, right? RIGHT?!?
Based on true story, Pauline (Melanie Lynskey) and Juliet (Kate Winslet) are best friends from New Zealand in the 1950s. Outcast from their families and friends, the two teenagers develops unusual friendship. Both of them have a very active imagination, almost make them hard to distinguish between fantasy and reality. When their families try to separate them because they are too close, they stop at nothing to prevent it. Directed by Peter Jackson.
Let me get this straight, this movie is highly overrated and over dramatic. The story is decent, maybe because it's a true story and Peter Jackson has a knack of telling a great story and adapt it to the screen. I give him that. But the pacing...it's always the pacing and the cuts. I know attention to details is crucial, but it's not worth it if it's not connecting with the storyline. I have to say, this movie is way before they were famous. This is actually Kate Winslet's debut performance, and her acting made me cringe. She talks with overacting high pitch, and the way she performed made me think; hey, you gotta start somewhere. The special effect is beautiful, and the scenery of New Zealand is beautiful. I have never been to South Island in New Zealand before, so watching this movie actually makes me wanna go there.
Despite rough acting, rough cutting, and rough directing, the movie didn't give me anything. I usually appreciate amateur film-making or even movie festival as long it has decent storyline and decent cinematography. I want to be able to enjoy a film, not to get depressed by it. The over-the-top performances gave me a headache. The characters' personalities didn't make me sympatico a bit, and the way they depicted their characters as lunatics didn't help either. I just wish they tone it down a bit and give more room to developments. My suggestion is that they should intercutting between flashbacks and the present time, instead put the climax on the beginning and then starts from the flashbacks. To be fair, Peter Jackson does very well here. The script is good, and based on a true story, which makes it that little bit more disturbing. But not my cup of tea.
Ratings: 2.5/10
Posted at 11:13 am by
hanitje
HoneyBee


July 22, 2006 05:48 PM PDT



sori, tetep gue liatnya ni film uda khilangan klimaxnya pada awal film. kalo msalnya dia bikin ni film sesuai kronologis dan ga trlalu overacting, mungkin gue bsa enjoy. sayangnya uda kburu bosen duluan. trlalu banyak close up ga jelas. orson wells disebut2, tapi kan si para cewe2 itu bilang dia ugly. huhuhuhu, ga jelas.
badu


July 22, 2006 02:55 PM PDT



semua yg norak2 dari film ini (over dramatic, etc yg kata lo itu) menurut gue justru menambah keanehan film ini. atmosfernya, gila, so weird. pasti disengaja ama Peter Jackson. speechless. gue suka BANGET film ini. 8/10.

apalagi ada soal Orson Welles-nya. *my favorite director of all-time*