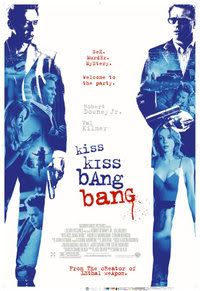 I was watching this movie without having any clue whatsoever about the premise. Sometimes it can be intimidating, not knowing before hand the basic story or the premise. I don't want to know about the spoiler, yes. But I do want to know what I'm getting into when I walk into a movie theater. Well, I think not knowing sometimes is better because I can lower my expectation and get ready whatever they are throwing at you. I'd tell you that I'm not dissapointed.
This movie is about Harry (Robert Downey Jr.), a small time crook who in one fateful chance is running away from a cop after his burglary attempt ends up in failure and his partner in crime got shot. He burst into a casting audition by mistake, and the producer likes him so much, he got a part as a detective in a movie. Pretending to be an actor, he meets a private detective named Gay Perry (Val Kilmer) who is a closet-gay, and he's going to help him with his method acting. Along the way, he also meets his childhood friend who he have a crush for a long time named Harmony (Michelle Monaghan) who is an aspiring actress. Somehow, luck is not Harry's best friend because along the way he discovers real murders, killers, dead bodies, framing, and losing his finger.
This movie is a funny buddy-cop-flick like Lethal Weapon and Rush Hour but has more depth and witty dialogues. Val Kilmer is hilarious in this movie. He played this flamboyant-likeable-believable gay cop, and I might say he looks very handsome in this movie. The dialogues are killers, which I found myself laughing out loud everytime Robert Downey and Val Kilmer deliver the lines. If there is such thing as a sequel, I'd like to watch it. Michelle Monaghan is also good playing this ditzy yet street smart woman, and the three of them are having a good time acting in this movie, and I can sense their chemistry.
The only thing that I really don't like is how Harry is always breaking the fourth wall. To those who doesn't understand the term, breaking the fourth wall means a character talks directly to the movie audience. Harry behaves like a narrator and a character at the same time, and also talking to the audience which I finds a bit annoying. I mean, seriously -- stop doing that! Just act in a movie, without having to acknowledge the audience. A movie is a movie, not a TV show. I hate it when a character looking at the camera and says something about the movie, I mean -- what the hell? I understand it meant to be funny, but I find it unnecessary. And I don't recommend this to moviegoers who doesn't understand American speech and accents, because they do speaks very fast here. Especially Robert Downey who in some reason acts like he's on Ritalin, because he's just babble babble and babble. That's why it makes me laughing so hard when Gay keep yelling to Harry to shut up and calling him idiot all the time. The storyline is also a tad bit confusing and it seems out of order, so I don't really recommend it for hardcore movie goer. Just enjoy the interaction between the actors and the cool dialogues.
Ratings: 7/10