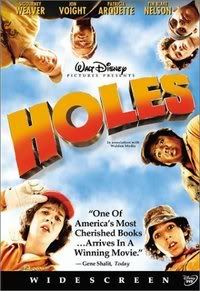 Holes is not your average Disney movie. It's fun, even for me who usually cringe at the cutesy. Perhaps the secret of this film is a little bit darker than your average kid stuff. I think it has the rare quality that makes it appeal to pre-teens, teenagers, and adults.
Stanley Yelnats IV alias Caveman (Shia LaBeouf) is falsely accused of stealing a famous donation shoes from an orphanage. Bad luck comes from his family curse, and he is sent by court order to 'Camp Green Lake' where he is forced to dig large holes in the desert each day, by order of the mysterious Warden (Sigourney Weaver) and her assistants Mr. Sir (Jon Voight) and Mr. Pendanski (Tim Blake Nelson). But what the Warden is really trying to do is find a buried treasure of Kissin' Kate Barlow (Patricia Arquette) from 100 years ago. But when Stanley and his friend Zero (Khleo Thomas) escape, things get really bad. Directed by Andrew Davies. Based on a novel by Louis Sachar.
It was surprising to see Shia LaBeouf's acting in this movie. He is young, and just fresh from "Even Stevens" tv series. In this movie, he plays it cool, and not overacting like most Disney live-action movies. Everyone seems to act natural and dark in my opinion. I don't think this is necessarily a kids movie, because of the dark tone. There are child abuse, murder, death, racism, even revenge. But there are also friendship, faith, love, even revelation. I really don't know why critics hate this movie. I think it's a nice movie altogether. Great actors, especially the adult ones. How nice to see Sigourney Weaver playing a villain for occassion? And Tim Blake Nelson who was wonderful in "Syriana", started his career in this movie. I do have a problem with John Voight who I think just a tad bit meh in this movie.
The kids actors are raw and acts amateur, but it's forgivable. In terms of acting, I like "School of Rock" performances. But it didn't affect the movie, I chose to ignore it and enjoyed the movie. Typically, family films have some annoying qualities, that makes it way too sappy and unbearable to watch, but this movie doesn't have that qualities that much. Sure, it has the very same moments that often times give a family movie its aforementioned quality, but this film does a good job of staying away from such conventions. And I like the direction from Andrew Davies, who directed "The Fugitive", so I guess he sprinkles some of the adult stuff. The acting was decent, and the uneasy dynamics that the main character had with some of the other campers was more realistic than what most movies seek to portray. Overall, it's an enjoyable film.
Ratings: 6/10