2010: The Year We Make Contact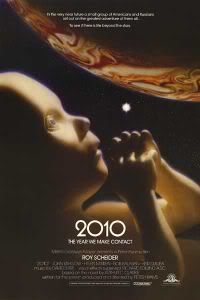 The fact that this film is a sequel to one of the most powerful, original and awe inspiring motion pictures in history forever, plunges into a shadow from which there is no escape. I didn't like it. To me, this sequel from the original "2001: A Space Odyssey" should not be made. Sometimes there are questions which doesn't need answers.
Dr. Heywood Floyd (Roy Scheider), the man who responsible for Discovery's failure, along with the American scientists, the creator of HAL-9000 named Dr. Chandra (Bob Balaban) and few Russian scientists are being sent to planet Jupiter to investigate the dissapearance of Astronout David Bowman (Keir Dullea) in 2001. They must reactivate the psychotic HAL-9000 (Douglas Rain) so they may learn what happened. Directed by Peter Hyams.
"2001: A Space Odyssey" directed by Stanley Kubrick was a masterpiece, in my opinion one of the best films ever made. The best part about it was that everyone who watched it "gets" something different out of it. Everything is not explained, leaving people to their own conclusions. This sequel robs the first one of its wonder since it gives tangible, mundane answers to the abstract questions the first one raises. Though a good film in its own right, it is at the expense of its predecessor. Not to mention a cheap knock-off of the original and even "Alien" movie. The original movie explains its story not so much in words, as it does in visuals. So much symbolism, shared thought and personal realization is made throughout the original, that it surpasses mere narrative. The secrets of the universe are too vast to explain and much too unnecessary to try and understand. They are what they are, and we are powerless.
I just didn't like this movie. It irritated me. It didn't even entertain on some basic level. The only redeeming quality of this movie was the brief scene with 2001 original star Keir Dullea. That was a nice touch. His scene was sad and I thought I couldn't handle it; when he appeared in a form of spectre in front of his wife and his mother to apologize, that made me cry. And I also felt so sad when HAL and Dave finally become friends again and exchanged some sad words. For a man over 40 in this movie, Keir Dullea looked like he was in his 20s. The special effects, in general, were also very nice. The film does get severely dated with its cold war subplot. Americans and Russians working together in space while their political counterparts wage war on the Earth below may have been effective at the time, but today it seems boring. Overall, this movie made me sad and it seems like a betrayal from the original movie, I couldn't stand watch it.
Ratings: 4.5/10
Posted at 06:03 pm by
hanitje