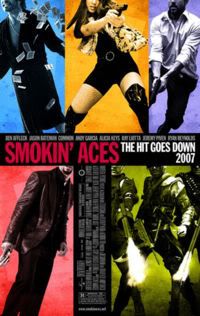 Ecchhhh...Sometimes when a hype and an overblown action combine into one, they usually becomes this great action movie and truly memorable. Unfortunately in this case, I felt like I was eating too much sugar and wondering where the hell all the energy got wasted!
FBI Agents Richard Messner (Ryan Reynolds) and Donald Carruthers (Ray Liotta) are assigned to protect Buddy 'Aces' Israel (Jeremy Piven) who decided to testify against Mafia boss Primo Sparazza (Joseph Ruskin), and who put out a bounty of $ 1 Million. It entices many bounty hunters like group of Las Vegas Bondman lead by Jack Dupree (Ben Affleck), Contract Killers Vixen lead by Georgia Sykes (Alicia Keys), Neo-Nazi brothers, The Plague (Nestor Carbonell), and a master of disguise Lazlo Soot (Tommy Flanagan). Meanwhile FBI Supervisor Stanley Locke (Andy Garcia) has a different agenda. Who is going to kill Aces first?
I do recognize the style seems like a bit Quentin Tarantino-esque which supposedly bloody and full of action type. Unfortunately this movie is far from that type of film. Yes, it was full of action and bloody. But I felt empty after watching it. Too many unnecessary characters, too many big names, too many, too much, you name it -- it does have all the recipe of action movie. This movie, like a cooking recipe, seems putting too much salt in it, it becomes tasteless. I think this movie has potential to be good, but again -- too much good stuff ends up bad. I feel like the writers and the directors were having major orgasms while making this film, with its bang bang boom boom loud guns explosion stereotypes swearing and titties. In the end, it's just an empty can with a loud noise. There were several good scenes and funny, but I won't even care afterwards.
I don't think this movie is the most gruesome and bloody action film of all time. That title goes to other movies such as "Kill Bill" and "Natural Born Killers", both written by Quentin Tarantino. I'm not saying this movie is bad, but it feels like a copycat. Even Michael Bay's films still have one of those gripping edge moments. This film seems wanted to be edgy and yet it still eeechhh. Big names but nothing important major characters development, although I do give props to Alicia Keys, Common, and Ryan Reynolds who I think are HOT in this film. Ben Affleck only come and bye bye in this film, I wonder why he even bothered showing up in the first place? Jeremy Piven... My God, how fucking annoying this guy is! I used to like him when he was John Cussack's sidekick. And now he becomes this main attraction and his head becomes big as his ego. I really really want him to die in this film!
Rating: 4.5/10
ETA: 2 years after my first viewing of this movie, I watched it again and surprisingly I liked it enough. I saw the dark humor and the fun style the filmmaker was trying to make, and realized that a movie should not be serious all the time. I appreciate it more and decided that this movie is actually a fun movie.

Rating: 6/10