The Science of Sleep / La Science des rêves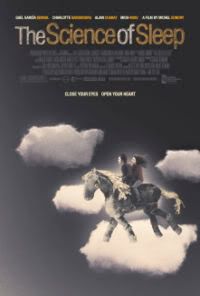 When you dream there are no rules. People can fly. Anything can happen. Sometimes there's a moment as you're waking and you become aware of the real world around you, but you are still dreaming. You may think you can fly but you better not try.
After the death of his father in Mexico, Stéphane Miroux (Gael García Bernal) a shy insecure young man, agrees to come to Paris to draw closer to his widowed mother Christine (Miou-Miou). He lands a boring job at a calendar-making firm and falls in love with his charming neighbor Stéphanie (Charlotte Gainsbourg). But conquering her is not easy for him and the only solution he finds to put up with the difficulties he is going through is escape into a dream world. Directed by Michel Gondry.
It is fascinating to watch a movie with three different languages; in this case, English, French, and Spanish-Mexican. And equally fascinating to watch a movie which completely taken from a dream world and combine it with real world. It is an astonishing movie with bizarre images and absurd storylines, and yet it is compelling because when I stop to think about it, it does make sense. Sometimes people have a hard time separating dreams and reality. Or maybe they don't want to separate it because in the dream we can achieve anything instead the harsh reality of the world. Which one do we want to choose? I wish I could sleep and not waking up because I can do whatever I want in the dream. But do I want to do that forever? That is one of the questions that being asked in this movie, because there is a choice in everything.
Stephane's active imagination particularly in sleep mode as his dreams threaten to spill over into reality or at least a romanticized viewings of what he wishes his reality was really like. He is a hopeless romantic man-child who desperately wants to connect with someone but have fun in the process. His inner mind workings suggest a rec room converted by corrugated paper and two window shades for his eyes as the talk-show of his thought process via a de-facto public access explains how all the ingredients of a recipe for dreams is concocted out of primal emotions, synchronicity and parallel happy accidents. Wonderful performance by Gael Garcia Bernal and truly emotional, and audience should sympathize with him. The special effect is also wonderful. It feels like watching a Russian animated movies but in a good way. Personally, "Eternal Sunshine and The Spotless Mind" is better, but I enjoyed this movie too.
Ratings: 7.5/10
Posted at 06:36 pm by
hanitje