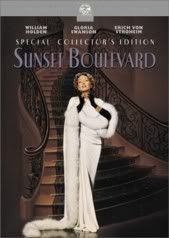 People are willing to sell their soul for whatever dream they have and for any price. This is the reality and the situation we are living on. No matter what, the whole dream and passion can blinded us into something horrifying. Check out the dark side of human beings as they are imprisoned by their own dreams.
Joe Gills (William Holden) is a poor film screen-writer when he accidently stumbles upon a mansion in Sunset Boulevard, which belongs to Norma Desmond (Gloria Swanson). She is a faded movie star who dreams of making a triumphant return to Hollywood. She lives with her butler, Max (Erich Von Stronheim) who is more than meets the eyes. Joe becomes Norma's lover boytoy and controls his every movement. In the mean time, Joe falls in love with Betty Schaefer (Nancy Olson) who is already engaged with his friend, Artie (Jack Webb). It becomes a thrilling ride between everyone especially when Norma cannot let go her past. Directed by Billy Wilder.
The theme of this movie is simply how corrupt Hollywood can be, how heartless it may be, how people will do anything to get there, and becomes a sellout. It is Hollywood in its darkest moment. The opening of the film would be enough to stamp this as one of the great movies. One of the most striking, stirring movies I've ever seen. This is a bitter film for Hollywood, with all its glory and grotesque world. It's a disturbing piece of film which I couldn't even look away from it. It's a movie that should be studied frame by frame because it has many symbols and gestures and meanings. It feels real. It feels creepy and yet has a sense of irony. It's how we are willing to sell ourselves out for any price. The situation looks more real today than it did then, with the bitterness and cynicism of the present. The movie has a timeless huge theme about exploitation of people and its consequences.
Billy Wilder, the director had a bitter, nasty, sardonic streak, and it shows in his movies. He was really ahead of his time. His style of filming is so different than any other directors from the Golden era. And Gloria Swanson gave a FANTASTIC performance. She was creepy and demented and totally scary in a pitiful way. I was scared and yet felt sorry for her, especially when towards the end she believed that she was making a comeback instead facing the reality. Her performance was so disturbing beyond any level, I had nightmares about her. William Holden was so handsome with a total cynical view and yet had the intelligence underneath that charming macho facade. I love the camera movement. It is so different from other classical movies, daring to try something that hasn't been used before. The screenplay is amazing, the dialogue absolutely floating unlike other classic movies where they are stiff and by the book. Not for everyone though, because the whole thing shot in black and white, and very heavy with noir tone -- modern viewers might have difficulties to adjust with it. But overall, this is one of the BEST movies I've ever watch.
Ratings: 10/10