Thursday, May 31, 2007
Pirates of Caribbean: At World's End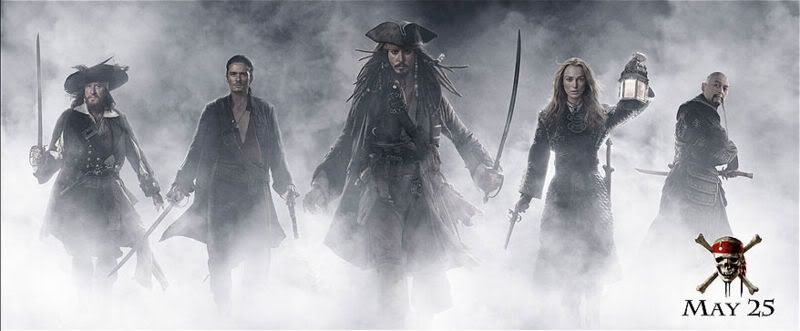 The last installment (so far!) of the Pirates franchise, and man, it was a doozy! What a monstrous movie in my opinion. So glad to see Captain Jack back, and of course Johnny Depp, and the rest of the cast and characters. But did it lived up with the hype?
Lord Cutler Beckett (

Tom Hollander

) has Davy Jones' heart, thus he and the East India Company controls the sea, including Davy Jones (

Bill Nighy

) and Flying Dutchman, with Admiral James Norrington (

Jack Davenport

) has no choice but to help him. He executes everyone that involves with piracy, which makes all 9 pirate lords to have a meeting and tries to summon Calypso, goddess of the sea. Meanwhile, Will (

Orlando Bloom

), Elizabeth (

Kiera Knightley

), Tia Dalma (

Naomie Harris

), and Captain Barbossa (

Geoffrey Rush

) with the rest of the crew goes to Singapore to meet Sao-Feng (

Chow Yun-Fat

) to ask for help and rescue Captain Jack Sparrow (

Johnny Depp

) from purgatory. Directed by

Gore Verbinsky

. Produced by

Jerry Bruckheimer

.


To tell you the truth; the movie is a bit confusing. I'm not making this up. I thought I already figured it out, but it seems there were surprises and twists and many characters were backstabbing or betraying everyone, which made me hard to actually like the characters. Character everyone thought was good, turned out to be bad, and vice versa. And honestly, I was fixated with Admiral James Norrington played by Jack Davenport because he was so dashingly handsome. But he only appeared very briefly in this movie; blink and you'll missed him. I was kinda dissapointed. The movie is VERY LONG, and it didn't help with all the confusing plot. Too many plots, too many twists, too many characters, and not enough Jack Sparrow/Johnny Depp! I guess it was expected in most last installment (so far!). I mean, look at "
Spider-Man 3
" and "
X-Men 3
".
Generally, the movie was nice but not as good as the second one. It wasn't funny per se, but had more spirit of the first movie, because there were many characters from the first movie appeared again. The color was a bit dark in this movie, because it symbolized the whole tone of the storyline. I dunno why, but the excitement was kinda gone when I was watching. Maybe the whole energy was used in the previous movie, so I was kinda tired to see the same old trick and the same old jokes, if there was any. And I noticed that there were similarities from "
The Little Mermaid
", but I won't tell you what. Watch it, and you'll see. But this is kind of movie you cannot missed, especially if you already watched the previous ones. Will there be the fourth movie, and will I watch it? Maybe, and yes - absolutely. I will lower my expectation though, because seriously, how many times you'd get entertained by the same formula? By the way, watch out a cameo from
Keith Richards
as Captain Teague, and Jack's father!
Ratings: 7/10
Posted at 04:07 am by
hanitje
hanitje
Welcome to HoneyBee Movies Addiction
Weather in Jakarta, Indonesia
Due to my hectic schedule, I will not be able to review all new movies every week. I apologize. I will however review some older movies from DVDs from time to time. Thank you for understanding.
Salute,
-HoneyBee-
---
Welcome to my humble weblog, a place to quench your addiction of movies. Enjoy your stay. Sometimes it's okay to be addicted to movies. PS: Beware of my brash review and language. I have a crazy obsessive compulsive behavior of watching movies. I called it being passionate. LOL. Grab some popcorn, and have a nice day! By the way, you can click the boxes at each reviews to watch the movie trailers. Enjoy!
Other Blogs
Movies From 0 to Z: