Sunday, August 03, 2008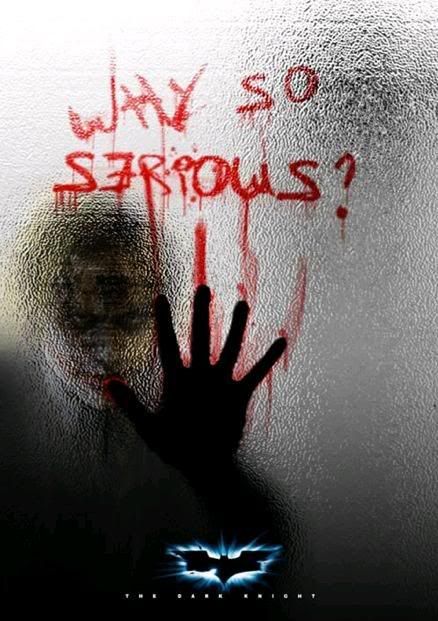 Have you ever been in a state of shock after watching a movie, and takes you few minutes to compose yourself before actually saying, "
Oh my God. I can't believe how GOOD this movie is!
"? That happened to me when I watched
The Dark Knight
and I thought I was being punched in the face. There are no words that actually can describe how good this film really is. I am speechless. This film is completely unconventional and powerful at the same time.
The Dark Knight
truly exceeded all of my expectations. You'd feel like you're in a roller-coaster ride, where you don't want to get off. And after the ride is over, you'd feel like you want to take another ride again. Yes, everyone. This movie is GREAT.
Batman/Bruce Wayne (

Christian Bale

) continues to fight crimes in Gotham City, with the help of Lt. James Gordon (

Gary Oldman

) and DA Harvey Dent (

Aaron Eckhart

) who is being dubbed as The White Knight. They are trying to get rid of the mobsters in the city, including the mob boss Salvatore Maroni (

Eric Roberts

). Fed up with the officials and The Batman, they hired The Joker (

Heath Ledger

) to kill them.
However, the Joker is also killing the mobsters off one by one. The Joker's plan is to terrify the citizens and throw the city into chaos, and then rule the city. The Joker is the most dangerous criminal that Batman has encountered, and he will need all his strength and vigilance to defeat him. Directed by

Christopher Nolan

. Written by

Jonathan Nolan

.

I walked out of this movie in absolute shock. It took me a few minutes before I could even speak and even then I couldn't for the life of me come up with the words powerful enough to describe what I had just experienced.
The movie is very intense, the palms of my hands were sweating and I think I was holding my breath for 2.5 hours. Christopher Nolan is genius, and Jonathan Nolan's writing is always superb. I need to worship them now. It's not comic book movie per se; gone the usual fanfare of superhero movies, where it's always black and white. No, this movie dare to go to the gray area and scrub it until it bleeds. If you remember, this movie had the biggest hype ever and everyone seems afraid that it wouldn't be good, even after Heath Ledger's death -- how amazing that the hype is actually true. You are watching one of the best movies of ALL TIME.
The Dark Knight

is darker, grittier, and more epic than

Batman Begins

or any Batman films for that matter. It becomes an instant classic like

The Godfather

,

Star Wars

, and

Titanic

.

Let me be truthful here... This movie is all about The Joker. Heath Ledger's performance as The Joker was out of this world, bless his soul. When I watched the movie, I didn't see Heath... I saw The Joker -- the most terrifying and most complex person who will cut you up without hesitation just because he enjoys the thrill. I was so scared watching him, because he completely disappeared into the role. He stole every scenes with his craziness and his violent manners. Like Alex DeLarge from

Clockwork Orange

, eventhough he's a villain, but he is full of charms and in demand, you can't help but notice him and can't take your eyes off him. I think I'm echoing everyone's statement here; he deserve an Oscar nod. My favorite Joker's quote is
"I believe whatever doesn't kill you simply makes you... stranger."
Everyone's performance was top notch, including

Maggie Gyllenhaal

as Rachel Dawes,

Morgan Freeman

as Lucius Fox, and

Michael Caine

as Alfred. Even the minor roles are awesome because they are played by talented actors. But...this movie has flaws. It isn't a perfect movie, and yet I'm easily dismiss it. Some people will notice these flaws, and might not like it. But I really don't care. This movie is simply brilliant.

Ratings: 10/10
hanitje
Welcome to HoneyBee Movies Addiction
Weather in Jakarta, Indonesia
Due to my hectic schedule, I will not be able to review all new movies every week. I apologize. I will however review some older movies from DVDs from time to time. Thank you for understanding.
Salute,
-HoneyBee-
---
Welcome to my humble weblog, a place to quench your addiction of movies. Enjoy your stay. Sometimes it's okay to be addicted to movies. PS: Beware of my brash review and language. I have a crazy obsessive compulsive behavior of watching movies. I called it being passionate. LOL. Grab some popcorn, and have a nice day! By the way, you can click the boxes at each reviews to watch the movie trailers. Enjoy!
Other Blogs
Movies From 0 to Z: