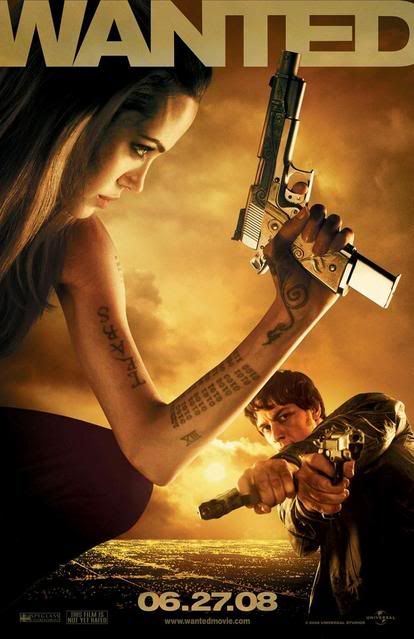 I waited to see this movie for months because I wanted to see James McAvoy. Me and my friends were so excited to see him in a blockbuster movie, because he usually plays dramatic roles instead action heroes. Imagine my disappointment when I saw the movie and it didn't fill out the expectation.
Wesley (

James McAvoy

) is a regular office worker when he found out that his father is killed and also a professional asassin, and he shares his killing ability. Fox (

Angelina Jolie

) and Sloan (

Morgan Freeman

) recruits him to the The Fraternity, secret guild of assassins who work to maintain order in the world by assassinating evil people before they even commit it. Wesley has to avenge his father's death by killing another assasin named Cross (

Thomas Kretschmann

). Before he is able to do that, he has to learn how to kill. Directed by

Timur Bekmambetov

.
I find the movie very absurd and not in a good way. Sometimes it's okay to suspend our beliefs when watching an action movie like this. I mean, look at
The Matrix
. But this movie ain't The Matrix, and I strained myself for not letting my I.Q dropped several points. It's not a bad movie per se; I kinda enjoyed Thomas Kretschman and
Common
's performances -- both of tem are so hot! Common played a gunsmith, one of the asassin, and he looked soooo sexy and cool. I can't say the same thing with James McAvoy though... Admittely he's very handsome, but I really don't know what is he doing in this movie... This is not his kind of role. He looked outta place in this role, because I'm used to see him in a dramatic roles. I can't see him in this sorta super hero film. And during the course of the movie, he uttered so many stupid lines and yelled like an idiot. His American accent also not convincing for me. Bottom line is, he's not up for this blockbuster movie. Stick with drama, please.
There are some storyline that predictable, but there are also some twists that I didn't see. I give them points for that plot twist, but not for the overall storyline. The script is a bit stupid in my opinion. This movie is based on a comic, and the comic is actually much much better. This movie is nothing but a poor reflection from the comic. Angelina Jolie is also gave a flat performance, like 'whatever' kinda acting. And my God, eat something will 'ya woman? Her arms looks frail, and she doesn't look sexy at all - compare that with her performances in
Tomb Raider
series. Morgan Freeman is also boring in this movie. Either it was his choice of acting, or he was emoting. Sure, there are some great shooting and fighting scenes. But I won't make it as the high point of this movie. If you wanna see a no brainer movie with boring plots and boring dialogue but with kick ass action scene, this movie is for you. I do give the filmmaker for making a point of choice though; will you kill someone to save hundreds, eventhough that someone hasn't done anything yet? It's the Hitler and egg question.
Ratings: 5.5/10