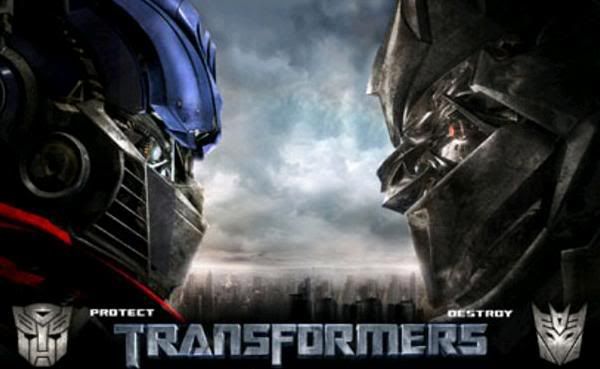 What happened when you put your childhood favorite cartoon, turned it into a live action movie, put many cheesy dialogues with young and upcoming actors with flat acting, added some cheesy soundtracks, and also don't forget shiny cars and unbelievable storyline, plus Michael Bay...? Well, you'd get this big noisy clunker.
Sam Witwicky (
Shia LaBeouf
) has a crush on his classmate, Mikaela (
Megan Fox
). In order to win her heart, he bought a car not knowing that the car is actually an Autobot named BumbleeBee (
Mark Ryan
). Autobots is a race of robot that has been living for millions of years, with their leader named Optimus Prime (
Peter Cullen
). Autobot is fighting a war with Decepticon, a ruthless race of robot that also has been disguising themselves as machines around humans, with their leader named Megatron (
Hugo Weaving
). Both races are looking for Allspark; a mystical talisman that would grant unlimited power to whoever possessed it. The humans are now stuck between their war. Directed by
Michael Bay
.
I hate Michael Bay. He's one of the directors that I really dislike. Nothing personal against him, I just hate how he managed to ruin my favorite cartoon when I was a little girl and turned it into a brainless and pointless popcorn movie. I understand that his movies will always have car chase, eye candy, sexy girl, cheesy dialogue, and shit load of loud explosions. It's his style, and he like it that way. I just wished that this movie wasn't directed by him. I was utterly disappointed. I'm not saying that the movie sucked, my opinion is kinda divided here. Maybe a decent movie, but not something I would be proud of. So many plot holes made my I.Q got lower. So many cheesy dialogues made my ears bleed. So many bad acting made me wanna scratch my eyes out. Seriously, the special effects weren't that bad though. I admit, the car chase and action scene were cool. But other than that? Good God. Spare me. I feel like I was watching
Armageddon
with robots. Loud with no substance.
The movie focused more towards the humans instead of the robots, which is one of the mistakes I refuse to let go. The movie is directed towards kids... and yet we have a masturbation speech! Was it suppose to be a joke? Because I don't dig stupid joke. We also have pointless characters, like Sam's parents and the army guys such as Captain Lennox (
Josh Duhamel
) and Sergeant Epps (
Tyrese Gibson
). But most offensive character would be Agent Simmons (
John Turturro
) who supposed to be somekind of a goverment lackey. And how dare they killed Jazz (
Darius McCrary
)!?! Bastards! So many unimportant characters, too many pointless story, wasteful of talents. The only thing I like is Optimus Prime, because he was my hero when I was a kid. But even in this movie, he fell flat. Overall, if you're looking for a movie where you don't have to think about anything (LIKE PLOTS OR WHATEVER) and just focus on the action scenes and cool cars... this is a movie for you. I give 8 points for action and special effects, and I give 4 points for plots, dialogues, acting, directing, and so on.
Ratings: 6/10