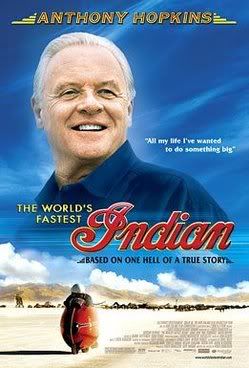 I have to apologize to New Zealanders or Kiwi people about what am I gonna say about this movie. I hate it. I am sorry, but that's true. I guess I don't share the same sympathy and likeness to this movie. I thought this movie is very boring. Yes, the acting is great and so on. But it doesn't change the fact that it's boring.
Burt Munro (Anthony Hopkins) is an old man living in a garage. He lives alone and always making something from junk much to his neighbors chagrin. He owns a 1920 Indian motorcycle which he proudly made from scratch. His obssesion is to set a world land record using his old bike. Under funded, without the support of a team and against all the odds he not only makes it to America, he sets a world land spend record, not once, but again and again.
I've seen the trailer and interviews from Kiwi audiences who watched this movie, and also message board that praising this movie which states that it deserve an Oscar. No, I dissagree. Sorry, people. I remember people were being interviewed and mentions, "it's the most fun i've ever have watching this movie!" or this "the best movie i've ever watch." I have to scoff that. Please.
Yes, I am the minority here. I remember I was sitting there along with other audiences who were laughing and even clapping...which I thought, why are they clapping? I mean, seriously - despite this movie is about a New Zealander, and I understand the pride of Kiwi people when watching this, this movie fails to deliver the impact of emotional journey that based on a true story. To me, this is just another a fish out of water story and nothing special about it. Don't cast me into a fire, people. I've seen better movie than this. And it's not funny like a ha-ha funny. It's just irony life experience kinda thing, which again, I've seen better.
One thing about Anthony Hopkins' acting is that he's done it with truthfulness. His New Zealand accent is very noticable, despite he's a Brit. But the movie itself just a self journey or more like a documentary about Burt Munro's life in United States of America. His naivity or dare I say, his ignorance about learning new things and following rules are being applaud in this movie, which I despise. I mean, he's a stubborn old man who doesn't want to learn new things and live as he pleases. The only way he survives because he's honest and very nice about it. So he's a good guy. But I maybe to cynical, because I don't see how he can survive that long. The story itself doesn't engage me. It's predictable and gave me a dud impression after I walked out with cheerful audiences, which made me rolled my eyes.
Ratings: 2/10