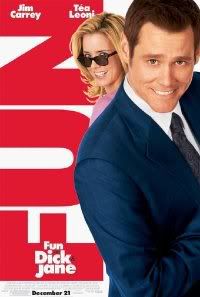 I am so surprised that many of my friends and comments from others says that they really don't like this movie. I mean, why? The storylines are funny, good and witty, and yeah although it's predictable but still entertaining. I personally like this movie, and I had a fun time watching this movie...no pun intended.
Dick Harper (Jim Carrey) is a senior executive at a major big company named Globaldyne. He is promoted to become a Vice Executive in his company, but his company goes bankrupt suddenly. He's out of job and desperately try to find a new one, any kind of job. Feel betrayed by the society, he and his wife Jane (Téa Leoni) turned to robbery so they can pay their bills. They also have to concoct a scheme so they can get their money back from Dick's ex-boss (Alec Baldwin).
Based from a remake from 1977 movie on a same title, I think this movie is great, a bit unusual from Jim Carrey's previous movies; which are less slapstick, more witty dialogue and great chemistry from other characters as well. He delivers different kind of performance in this movie. He usually always like a guy who drinks a dozen of coffees, and his face like a rubber...but in this movie, he is more likeable and charming as a father, a husband and an ironic man. Different from Liars, Liars whereareas he was sooo funny and almost busted my gut, I thought his acting in this movie is more in drama quality. He isn't trying to be funny, and be more real as possible -- in a funny kind of way.
So many scenes stealer from other actors like Carlos Jacott as Oz Peterson, Dick's collegue who was fired too from the company and down on a same path like Dick but less lucky. Everytime Dick got promoted or got lucky in some thing, he just screamed, "SONOFABITCH!" I laughed, laughed and laughed. When he and Dick are trying to get a same job and they literaly trying to stop each other from getting interview by physically harming one on another, I thought it was priceless moment.
I also like Richard Jenkins as Frank Bascom as a sleazy executive guy who ends up befriended Dick and Jane. His delivery comic is right on time, and he always funny like when he was in Intolerable Cruelty and he has a very good chemistry with everyone too. Tea Leoni is a bit flat to my taste, but she balances Jim Carrey in a good way, so I give her a credit for effort. Alec Baldwin seems to overplay as a boss villain, I've seen him in so many movies playing the same characters over and over again, I'm a bit dissapointed. Overall, I don't care what other people think; this movie is funny and poignant and I like it.
Ratings: 6/10