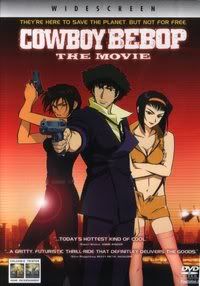 Wow. Awesome. This movie is so perfect, it's almost too good to be true. This is a movie that far surpasses anything Hollywood has given us and far exceeds anything in terms of entertainment. This movie exceeded mine and others expectations in a terms of perfection. Sure, one can argue there's no such thing as a perfect movie -- but then again, I think this is the closest thing.
A deadly virus is released within the explosion of a tanker truck in the city. Bounty hunters of Spike Spiegel (Steve Blum), Jet Black (Beau Billingslea), Faye Valentine (Wendee Lee) and Edward Wong Hau Pepelu Tivrusky IV (Melissa Fahn) plus Ein the dog who aboard the Bebop ship are after the terrorist when bounty reward of $300,000,000 Woolongs is announced. Spike encounters enigmatic Electra Ovilo (Jennifer Hale) who works in the secret biotech company, whom also seeks the terrorist who happens to be her ex-lover, Vincent Volaju (Darran Norris). Conspiracy and secrets which better left alone are uncovered, and Vincent's reign or terror is nowhere near over yet, and it's up to the Bebop crew to save the world.
To those not well familiar with the Cowboy Bebop futuristic series, it takes some time to get familiar with various featured characters. The main characters are treated and handled beautifully. We're even being introduced to new characters that revealed themselves to be very deep and realistic. The script is amazing, so humane and real and yet often at times gush poetic. The action sequences are amazing and are unforgettable. The animation in this is far superior to that of the series and are so groundbreaking that I feel that every scenes have been animated with this sort of amazing quality and sheer realism. They are sight to behold. The details of animation amazes me, I thought I was watching a real live-action movie instead an anime movie. There are times I was so drawn into the storylines and dialogues, not to mention the animation, I didn't want it to end. It's that good ! Not to mention the music by Yokko Kanno as always a breathtaking-kick-of-the-jaw kinda thing.
I have to give my appraisal to the director, production teams, voice actors and the maker of of this movie, because when they deliver...they really deliver great performances. I salute them. Too bad this movie is underrated by the critics and by the Academy Award. Maybe because if the message, moral and the violence in the movie made them retreated to the safer zone, because they only thought of it as an anime. The symbolism and nuance that are laid thick in colorful locales and poignant sceneries may merit repeat viewings to appreciate them; a careful analysis of the film brings another level of enjoyment to overall experience. A movie that stays with you and really think about life existence and how we deal with it. My opinion; just like Disney who grasping to Hayao Miyazaki's movies, Columbia Tristar seems also trying to do the same thing. Well, we'll see about that. So far, I'm not complaining. Overall, I really recommend this movie -- and try watch it both in dubbing and in original because there are amazing acting in both Japanese and English performances, although I think the English dubbing is far greater than the original one though. Two thumbs up!
Ratings: 10/10