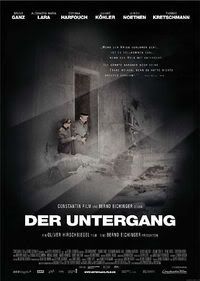 Impressive. That's one word to describe this movie. Very haunting and very real to the core, the film really depicted the personalities and the last days of the most memorable evil in the whole world. But what we see as a monster on the outside, surprisingly...there's a human being inside this evil. A human being that capable of feeling other emotion like others. Personally, I feel numb after watching this movie. Because I realize, how much good and evil is separated by a very thin hair and we are living a very grey area.
In the last days of World War Two, Adolf Hitler (Bruno Ganz) proclaims that Germany will still achieve victory and orders his generals and advisors to fight to the last breath. These final days of the Nazis, where senior Nazi leaders began defecting from their leader in an effort to save their own lives, while others still pledge to die with Hitler. When the end finally does comes, Hitler commited suicide with his wife, Eva Braun (Juliane Köhler). Reality does finally start to break through and the others in the bunker start to make their final personal preparations for the inevitable. The story is loosely based from Hitler's personal secretary, Traudl Junge (Alexandra Maria Lara).
First of all, Bruno Ganz' performance is magnificent, brilliant, and perfect. You're beginning to think he IS the Fuehrer; his look, his mannerism, his sick philosophy of life and his downfall are absolutely convincing. After seeing him you can finally understand why so many people back then were attracted by his charisma, but thanks to his performance you do not forget about the terrible crimes he committed by his followers and about the evil inside the sick soul of this man. And I also feel sick to my stomach that I actually attracted to his charisma, which is power. He is so powerful, it's hard to even look away and say NO. There are times when I could see his monstrous and evil personality...but then again, it's a thing that human is capable of doing. In the end, it really depends on your personal morality and faith. The film neither glorifies Hitler and his inner circle, nor does it provide commentary on the crimes perpetrated by the Nazi regime. Instead, the film is based on historical events, eyewitness accounts and the personal testimony of the people who knew Hitler, especially from Traudl Junge. The two plus hours of this film passed swiftly after entangling me in the extraordinarily fine acting, cinematography and lighting of the talented people that produced such a great film.
The actors really delivers absolutely great performance, and I am surprised that the Academy of Motion Picture never nominated these actors for their potrayals. I just wanna say, that Alexandra Maria Lara is pretty, and she actually balance the whole storyline with her confusion between right and wrong in this dark tale. Eva Braun on the other hand is chillingly cheerful all the time; people got blown up to pieces, she keeps smiling. The most disturbing story is of course about the extinction of the Goebbels family. Magda Goebbels (Corrina Harfouch) murdered her children while they were asleep, while her husband, Dr.Paul Goebbels (Ulrich Matthes) cowardly just waited outside their room, and then both of them also commited suicide. The whole movie basically is about desperation; and how these people rather died than surrender. People are shooting and killing themselves every five minutes, I feel like I wanted to shoot myself in the head. You also feel sorry for Hitler himself, he has made his pact with the devil, and he appears gone from us as a normal human being despite the attempts by Eva Braun to put some humanity back in. This is not just a historical film but also a study in psychology as well.
Ratings: 10/10