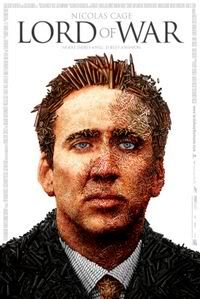 It's a strange, strange world we live in today. Everything in life is based on politic, money or sex; but one thing for sure -- power is the answer. And the equivalent for power is of course weapons. Loads of them. History of mankind reveals that human being has the tendency to achieve their goal with anything. We really living in grey world -- there is no such thing as black and white world anymore. And anyone who thinks that there is such thing as black and white is an idiot.
Yuri Orlov (Nicolas Cage) is the most successful arms dealer in the world. His life is a journey of ascension through the excess and indulgence, where he forms a business partnership with a sadistic African warlord named André Baptiste Sr (Eamonn Walker). He also has to endure his relationship through the years with his younger brother, Vitaly (Jared Leto), his marriage to a famous model, Ava (Bridget Monayhan), being pursuit by a determined Interpol agent named Jack Valentine (Ethan Hawke) and his inner demons that sway between his drive for success and the immorality of what he does.
It seems there are many movies dedicated to the morality of human being nowadays. Whether it is serious like Traffic and Syriana or nerve wrecking like Crash and The Constant Gardener, this movie actually provides the cynical way of explaining the storylines. One of the most grabbing movies I've seen in a long time; from the visual to the in-your-face rant about the reality of things at the end. It is also very daring. The movie is accusing itself a lot, without being too apologetic or dogmatic. Very well crafted script, fast pacing, cynically harsh and evil, telling, revealing, shocking, yet done in a way that is almost laughable. All while realising one is not allowed to laugh about it, because you know the world is like this, or worse. Simply the movie is good. It has good acting, good direction, and good writing. Everything about the movie is good, not great but good. The real thing about this movie is the message. Yuri is a terrible man, and yet I feel that he was just doing his job. He may not pulled the trigger, but he sure hell provide the bullets. The most memorable performance is from Eamon Walker. He is scary. He and Nicolas Cage balances on each other. Their characters basically are the same, like two sides from a same coin. I am deathly scared to Baptiste. His top notch performance is like the dictator Hitler.
I expected nothing when watching this movie; I thought it would be sucky considering I don't really like Nicolas Cage that much. But this movie is very good and like a kick in the stomach. From the very beginning when they showed us the journey of a bullet from the factory to a child's head.... I was intrigued, like that. So many layers of messages and morality, without actually preaching. It only shows the reality of our world instead just sugar coated it. This is real, this is how the world works. Yuri is so hypocrite, he really holds the motto of see no evil, hear no evil, talk no evil over the top. He doesn't care what people will do with his weapons, as long he sells it. And for that he lose every bit of his soul everyday. When he finally lost everything, he stays quiet and continued what he's doing -- because his life is his line of work. Without his work, he is nothing. This movie never shoves its philosophy down our throats, it never glorifies violence or drug abuse, it never promotes capitalism or materialism. There is a scene that made me laugh so hard, when the tyrant made a joke about something -- I don't remember -- but it must be a horrible joke, because nobody laughed, except me! I guess I understand more the satirical and cynical story rather than just being in awe. I felt bad actually after laughing. It seems I was laughing at the deaths around us. Which is ironic.
Ratings: 7/10