Monday, December 12, 2005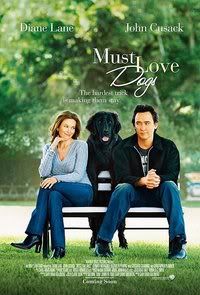 Generally, I like most of John Cussack's movies. This is not one of 'em. I had high expectation when I walked into the theater and expected something new, something good, something fresh, something funny, something sexy...all those things that should make a romantic comedy a successfull movie. Well, I shouldn't have.
The story is about Sarah (Diane Lane), a divorced pre-school teacher in her late 30s who is so insecure about men that she jitters and babble all the time. Her family keeps telling her to find a new man and get on with her life, even put her photo in a dating internet website service, and she specifically put a specification of must loving dogs kinda guy. Jake (John Cussack) also just got off from a relationship, answers her ad. Another guy (Dermot Mulroney) from Sarah's school, who also a divorcee, is trying to seduce Sarah...and supposedly funny romantic love triangle moment occurs. Yeah, not happening.
The whole premises is suppose to be a romantic comedy film. After I watched this, I really don't give a damn. This movie is so boring, I kept checking my watch. I mean, how many times do we have to watch romantic comedy cliches? You know; boy meets girl, girl meet boys, boy and girl have a fight, boy runs away, girl is trying to win him back, the end, happy ending, goodbye. I watch this, and immediately I feel like I'm in kiddies pool with a life jacket, 'cause I'm afraid to get drown. This movie feels like it, the whole thing seems fake, and the story itself just predictable. They seems afraid to try new things, and just act whatever. The people in this movie don't exactly talks; they patter with that hollow cloying rattletrap cleverness common to bad sitcoms at the moment they reveal their 'sincerity'. The only character that I think is worth mentioning is Jack's best friend, which shamelessly I don't remember his name...Charlie (Brad Shenkman), I think. He delivers the funny dialogue (if any...), witty comments, and likeable side-kick. I think he should get his own movie, maybe a sequel starring him.

And, this isn't even John Cussack's movie. This is suppose to be Diane Lane's movie apparently, 'cause she dominated most of the screen time. Of course, not that I complain or anything -- she's vibrant and beautiful and such. But I grew up watching John Cussack's movies, and I do want to see him more. In this movie, he really backpedalling a lot and giving Diane Lane lotsa screen time. His own performance even different -- he usually passionate in each of his movie, but in this movie, he's just there. He appear on the screen, but completely invisible. What's wrong with him? He seems he doesn't even want to be there in the movie, he looks like he just showing up there in the movie and do acting bits. These two actors are good looking, extremely sexy, and they deserve to be in a good movie. This movie is trying hard to be like Woody Allen-type, which is not the case. I hope I'm not spoils anything, but her scene when she jumped into the lake to chase the man of her dream just enough to gag me. This is a movie of fake conflict, fake heart, even fake doggy love. Steer away from this movie. But if you like cheesy...absolutely street paved with cheese kinda movie, be my guess. You won't get any bones from me, though.
Ratings: 1/10
Posted at 04:52 pm by
hanitje
rande


May 27, 2006 05:33 PM PDT



gw sebenernya ga terlalu merhatiin chemistry between diane lane and John Cussack, walupun kadang" nyambung tapi kadang jg 'off'.. yg bikin gw film ini berkesan : penampilan dari si bapaknya Diane lane, yg flamboyan, karismatik, rada plaboyish, but there's something deep inside that shallow looking man... mungkin ini salah satu dari sekian banyak film yg orang" anggep flat, standard, nothing special, but for me this movie still lingers on for me because of the similiarity about the character's in this movie with myself and my surroundings...
reygreena


December 17, 2005 01:16 PM PST



mungkin karena udah 'ketuaan' kali ya?? jadi mo fall in love juga udah gak kena rasanya... apalagi yg pake lucu-lucuan sok coincidence hehe... tauk nih gue gak terpanggil utk nontonnya, gak dibela-belain selayaknya film lain :p
Hani


December 13, 2005 11:12 PM PST



ini film sbenernya lumayan. cuman terlalu dibikin2. eneq gue.
reygreena


December 13, 2005 12:57 AM PST



wah belum sempet nonton yang ini nih, masih dalam waiting list ;) kalo gak sempet di bioskop nunggu dvd (bajakan) aja kali deh...
hanitje
Welcome to HoneyBee Movies Addiction
Weather in Jakarta, Indonesia
Due to my hectic schedule, I will not be able to review all new movies every week. I apologize. I will however review some older movies from DVDs from time to time. Thank you for understanding.
Salute,
-HoneyBee-
---
Welcome to my humble weblog, a place to quench your addiction of movies. Enjoy your stay. Sometimes it's okay to be addicted to movies. PS: Beware of my brash review and language. I have a crazy obsessive compulsive behavior of watching movies. I called it being passionate. LOL. Grab some popcorn, and have a nice day! By the way, you can click the boxes at each reviews to watch the movie trailers. Enjoy!
Other Blogs
Movies From 0 to Z: