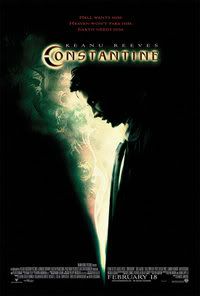 If you knew that you're gonna end up in hell anyway...would you buy yourself a way to heaven? Would you do anything so you won't be in hell, or you just give up and let the fate decide your life? What would you do?
John Constantine (Keanu Reeves) is an exorcist who has been to Hell and back, and whose soul is sentenced to Hell because he commited suicide. He has been deporting demons with his apprentice, Chaz Kramer (Shia LeBeouf) to get into Heaven. But Gabriel (Tilda Swinton) said that God only wants self-sacrifice from him. Satan/Lucifer (Peter Stormare) is said to be the one who will collect Constantine's soul. After the mysterious suicide of her twin sister Isabel, Detective Angela Dodson (Rachel Weisz) goes out to search for the truth. Together, they battled the demons of earth. Directed by Francis Lawrence.
I dunno why not many people like this movie. I personally like this movie because of its dark tone, and unlike other movie based on comic book, I think the movie really hit the reality basis...as far as supernatural going. Yes, it may not be truthful with the comic "Hellblaizer", but it still have the same connotation, which is the battle of good versus evil. The religious and hellish atmosphere are very thick, so I guess it kinda put off some people because they were expecting to see a light comic book movie ala "X-Men" for example. I think this movie has its own quality. I love the storyline, seems make sense in every way that no matter what, we are responsible with our own life and sometimes people need to make sacrifice in order to get the ultimate happiness. I like how this movie has so many layers of truths, and not to mention the reality of this movie is so amazing. I like the appearance of Gavin Rossdale as Balthazar, I think his performance was great.
Some people said that the reason why they don't like this movie because it is a bit slow to reach the climax, with confusing plot of religious dogma. I personally think this movie is like a detective story, where they investigates a case and solve it. It's simple, but yet to some people it's not. I dunno why. I love the casting, although it's a bit wrong. Keanu Reeves is not a British guy, unlike the character of John Constantine. He was suppose to be a British exorcist in London, but they changed the character into an American. That is one flaw about it, but other than that I don't have much complain. Not bad for a movie that being directed for the first time by a music director. I love the colors, the cinematography, the music, and the myth of everything in this movie. Not for everyone because of its confusing plot and a tad bit too long, but it's one of my favorite movies.
Ratings: 8/10
Posted at 04:15 pm by
hanitje
indres


February 22, 2009 03:58 AM PST



Hey, you're not alone, I like this movie :-D
Name


December 19, 2008 10:02 PM PST



Scene fave gue di film ini pas Gabriel nantang si Constantine untuk nembak dia. Tapi Constantine malah nonjok Gabriel, secara si Gabriel kan udah jadi mortal... Jadi dia tau, gimana rasa sakit itu... hehehe...
HoneyBee


March 22, 2007 06:11 PM PDT



iya...gara2 dia ngasi middle finger ke lucifernya. hehehe.
andy


March 22, 2007 03:49 PM PDT



emang sih menurut gue film ini bagus.. gue suka banget.. ya pada intinya orang baik ato setidaknya orang dengan niat baik menolong orang lain bisa masuk surga bila Yang Diatas sudah menghendakinya... (di adegan terakhir waktu constantine mati dengan latar surga.. si constantine sudah tersenyum penuh kemenangan coz mau masuk surga haha.. eh malah gadibolehin mati ama si lucifer. ditarik paksa dari mati.. ^__^)