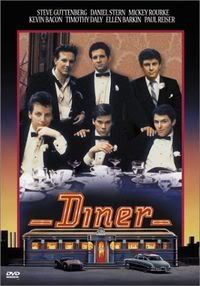 Hmm... french fries and gravy. Oh, I haven't had those for a long time. I had those when I was in State... Oh. Watching this movie just made me realize how much I missed American greasy food. But enough about the food, what about the movie? I enjoyed this 'guys' movies so much, I thought I wanted to be one of the guys!
Set in Baltimore in 1959, it tells of the story of a group of male in their twenties, who reunite for the wedding of one of their group. Eddie (Steve Gutenberg) is getting married, and in order to make the wedding on, he is making a series of football questionare to his bride-to-be, Elyse (we never see her face!). If she fails, the wedding is off. Shrevie (Daniel Stern) is having a marital problem with his wife, Beth (Ellen Barkin). Boogie (Mickey Rourke) is having a gambling problem. Billy (Tim Daly) is proposing to his girlfriend, but with no luck. Tim (Kevin Bacon) is being shunned by his family. Modell (Paul Reiser) is enjoying the life with his friends. Directed by Barry Levinson.
The story is very simple, there isn't a strong plot, but the picture works because the screenplay, direction and great casting rise above any shortcomings. The semi-autobiographical film explores the changing relationships among these friends as they become adults through what is mostly a series of vignettes rather than a traditional narrative. Much of the film is unscripted, this film is preferring to use ad libbing to capture naturalistic camaraderie on the screen.The dialog was clever even though it was mostly disguised as ramblings about nothing such as the notorious conversations. The film had its share of ups and downs but it had a light-hearted ending and finished on a comical note. There are many memorable moments and lines of dialogue. The football quiz is definitely something to be remembered. The film probably doesn't feature a strong goal. I found myself wanting something more at the end. Perhaps the most memorable aspect of this film is simply the relationships between the characters themselves. The characters are keen to accept new responsibilities but also want to hang on to elements of their boyhood even while moving into adulthood.
The cast was perfectly set as each actor/actress did whatever they needed to do to get the job done. The one thing I found to be extremely surprising is how soft Mickey Rourke's voice was when he was younger. I couldn't get over how handsome he was either. He looked so cool, with his attitude and all. My favorite scene is the "roast beef sandwich" argument: Modell asks Eddie if that's a roast beef sandwich he's eating, and Eddie can sense he wants a bite from the sandwich, so he yells out, "Just say it! 'I want the roast beef sandwich!'" It's a brilliant type scene which revolves around a banal subject, but I can't help but be delightfully amused, because let's fact it; the things we relate most to are the simple things in life. This is a film for those who enjoy funny, moving, character-driven nostalgia films with fine actors. If you like great dialogue and great improvisation, you'd kill for this film. An intelligent, thoughtful, funny film about men, their friendships, and their priorities.
Ratings: 6.5/10