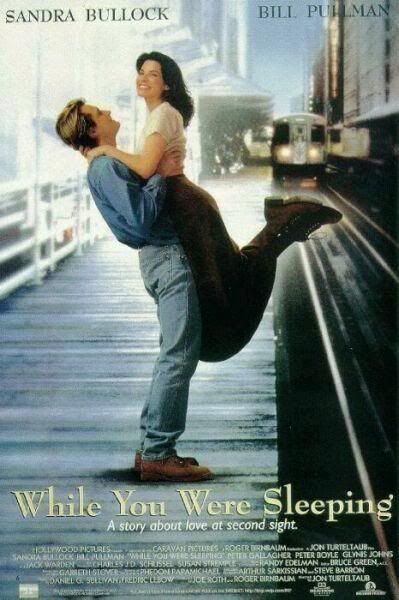 Happy Holidays, everyone! In the spirit of holiday, I want to review one of my favorite movies of all time. A very light romantic comedy for all ages. I remember watching it, and fell in love with the movie instantly. This is a movie about family and friends and everything in between.
Lucy (
Sandra Bullock
) is a lonely ticket collector at a train station, who has a secret crush with a regular customer named Peter (
Peter Gallagher
). On a fateful Christmas day, Peter is mugged and pushed onto the railway tracks, and she rescues him from an oncoming train. Peter is in coma, and in the hospital, everyone including Peter's family thinks that Lucy is his fiancée. Lucy is too embarrassed to tell the truth, and play along with it. Complications arise when Jack (
Bill Pullman
), Peter's brother gets suspicious. Not to mention Ashley (
Ally Walker
), Peter's real fiancée shows up. And what will happen when Lucy falling love with Jack instead? Directed by
Jon Turteltaub
.
Sometimes I like soapy but heartwarming romantic comedy, especially when the cast are great and have great chemistry with each other. And the story itself is not bad, although if the role is reserve, the heroine might be considered as a stalker. But this is a movie where you don't have to think too seriously.
I love the setting of winter holiday in the windy city Chicago, so we can actually feels that this happens in everyday life. The movie itself is very sweet and endearing, the characters are likable even the bitchy one, and also very funny. The situation is cheesy, and yet believable. A rare and underrated romantic comedy which doesn't make you gag, but actually feels warm and happy.

The minor thing is of course, like any other movies, this won't happen in real life. There is no way Lucy will get away with the lies and everything. But this movie is so cute and sweet, I'm going to let it slide. It's hard enough to find a funny romantic comedy, so you might as well suspend your disbelief. And it's worth it actually. I love the actors, I love the dialogue, I love the setting, I love the soundtrack, and so on. I hope in the future, there would be this kind of movie again. Because it's a rarity to have one. The story itself is very touching; about a lonely orphan who is desperate to find love and happiness, she would cling to the first family who welcomes her in arms wide open. And in the end, she does find the happiness, although in a way that she didn't expect. Now, don't we all want that kind of happy ending? Happy holidays everyone!

Rating: 9/10