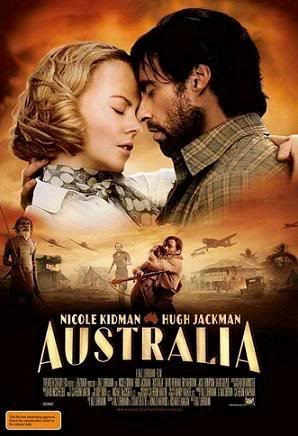 I have some good news and bad news. The good news is, I
really
like this movie. The bad news is, this movie is not
that
great. Good, yes. Great? Not so much. And how can this happen? Well, nobody's perfect.
The film is narrated by the young mixed-race Aboriginal boy, Nullah (

Brandon Walters

). Lady Sarah Ashley (
Nicole Kidman
) travels from England to Australia to meet with her husband at their cattle station/farm in Faraway Downs. A drover (
Hugh Jackman
) picks her up and takes her to the farm, and they find out that her husband has been murdered. Neil Fletcher (
David Wenham
) put the blame to 'King' George (
David Gulpilil
), the Aborigine elderly and Nulla as the murderer. He also secretly working with other cattle baron, King Carney (
Bryan Brown
) in order to rule monopoly of cattle farm during the war. Lack of experience and no manpower, Lady Sarah decides to drove the cattle to Darwin by herself, with the Drover, Nulla, and several others. Their adventure begins. Directed by
Baz Luhrmann
.
The good news: This is a movie with epic proportion; big names, big country, big cast, big budget, etc. I love the setting of raw Australia, with its dessert, mountains, and hills. It is a big country/continent, and I'm glad we're allowed to see that. The setting is war period time, so it dwells with war and turbulence. It also dwells with Australia native people, and how white people treat them most of the time; the apartheid and racism are very clear in this movie. Brandon Walters and David Gulpilil played great Aboriginal characters; we see their struggle as the minority whilst they are the native people in the land. I also love the performance of David Wenham as the villain in this movie, although he played it a little bit cheesy. Amazing acting performance from
David Ngoombujarra
who played Magarri, Dover's best friend. Hugh Jackman also good -- and on a shallow note, he's definitely hot. Really a good eye candy.
The bad news: The trailer sells this movie as an epic romance adventure ala
Titanic
. Apparently a false advertising, because the romance is very little in this movie. I have no idea what this movie is about; an epic romance? An epic adventure? A war movie? Drama? Action? A culture significant movie? A fantasy? All of the above? The plots are mixing and clashing together like waves and cooked with many spices, you have no idea what is going on. In one minute we're watching a love story, next scene later we're watching a war and magic. Either it's bad editing, or the filmmaker is deliberately trying to give us everything in one sitting. That is why Nicole Kidman's acting is really inconsistent and she seems blah in this movie. Don't get me wrong, she is good -- but not that good in this movie. I feel like something missing, but that doesn't mean they need to add something more. I feel like the essence is missing with all the many plots and it can be trimmed down and throw away the unnecessary cheesy storyline and focus more to one thing. Anything, take your pick! I liked what I saw, but it's not the greatest thing I've ever saw.
Rating: 7/10
ETA: Just watched it again... apparently I saw more bad news. It felt more like an episode of Bonanza or something. Too soapy, too clutter, too much, and too confusing. I wished they made it better.
Rating: 5/10