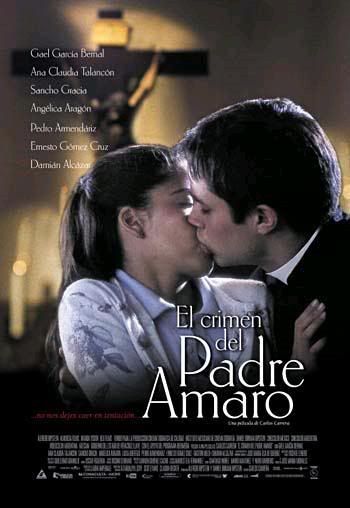 One thing I learn about human nature; that we have three basic instincts inside of us. One; the animal kind. The animal instinct inside of us which we feel basic needs like hunger and sex. Two; the divine kind. The divine instinct of us which we feel basic needs to worship something divine or about our faith. The third one; the devil kind. The devil instinct inside of us which we feel basic needs to do something horrible and committed sins. These what makes us human beings. The question is, which one is the winner?
The newly ordained Padre Amaro (
Gael García Bernal
) arrives in small town of Los Reyes, to start his life serving the church. He is soon led into temptation by the beautiful Amelia (
Ana Claudia Talancón
) a sixteen-year-old girl whose infatuation with the handsome young priest leads to tragedy. He is plagued with guilt about his feelings for Amelia and as the local press begin to reveal the secrets of the parish, Amaro turns to his superior, Padre Benito (
Sancho Gracia
), who himself is having a relationship with Amelia's mother. Based on the novel

O Crime do Padre Amaro

by
José Maria de Eça de Queiroz
.
This Spanish speaking movie was very controversial first time it was being released because of the theme. Corruptions and sex scandals in the life of church are everywhere and happens every time in real life, but it always being covered up. Just like real life, the themes are about sins and boundaries. No matter what you are, whether you're a man of God, you're still a human being who has needs. But then again if you are a man of God, you're already given up that privilege. A Catholic priest has to give up his rights of basic needs and his animal/devil instincts. And if you don't like it, don't be a Catholic priest then. You can't eat your cake and have it too. Sometimes you have to make a decision and live with the consequences.
Unfortunately, when a man of God thinks that he's beyond those rules, privileges , consequences, and morals...then you have nothing beside a hypocrite. Amaro was disgusted at first to see the corruption inside the parrish, and he vowed to stay clean no matter what. But seduction and temptation can grab you from anywhere. Next thing you know, he is climbing the ladder of success based on other people's misfortunes. He is walking in a very slippery slope, and yet he's getting away from the consequences because of his charming way and good looks. It's a matter of time until it swims up and bite him in the ass. Or maybe he will get away clean as a whistle. It's a cruel joke about reality. And the wicked shall rule the world.
Rating: 7.5/10